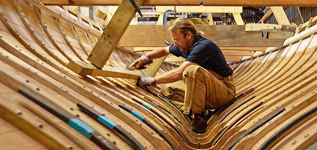 https://vimeo.com/263940849
Original Name: Handmade In Hull
English Name: Handmade In Hull
Year: 2017
Run Time: 45'
Language: English
Type (Colour/ Black & White): Colour
Country: United Kingdom
Director: Glen Milner
Producer: Glen Milner
Cast: O.H. Boyd, Linda Brothwell, Julie Chapman, John Gittens, Gabriel Nichols, Brian Walker, Ron Wilkinson
Cinematographer: Glen milner
Editor: Alex Elkins
Sound Designer: Sashko Potter Micevski
Selected Filmography:
2018 Danceworks
2017 The Stories: The Making Of 'Rogue One: A Star Wars Story'
2017 Handmade In Hull
Director's Biography: Glen Milner is a British filmmaker based in London. After working through the camera ranks on films such as Terrence Malick's The Tree of Life, Glen focused his own distinct style into documentary storytelling. His films for broadcasters such as The BBC, Channel 4, LucasFilm, Disney, The Guardian & SKY have gone onto reach huge global audiences and receive wide-spread critical acclaim. This includes awards from worldwide festivals and nominations at institutions such as the American Film Institute &The Royal Television Society.
Synopsis: An evocative portrait of Hull's industrial heritage and the people who helped create it. Produced in collaboration with artist Linda Brothwell as part of Hull City of Culture 2017, Glen Milner's visually stunning film pushes the arts documentary form, offering an elegant tribute to a disappearing world of craft traditions, from boat-builders and wood-carvers to the compass-maker whose precision-crafted instruments once helped steer Hull's fishing fleet.