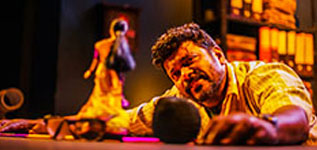 https://youtu.be/zaLZimXP2Ak
Original name: OTHTHA SERUPPU SIZE 7
English name: SINGLE SLIPPER SIZE 7
Year: 2019
Run time: 98 minutes
Language: Tamil
Type (Colour/ Black & white): Colour
Country: India
Director: Radhakrishnan Parthiban
Producer: Radhakrishnan Parthiban
Cast: Radhakrishnan Parthiban
Screenplay: Radhakrishnan Parthiban
Cinematographer: Ramji
Editor: R. Sudharsan
Sound Designer: Resul Pookutty, Amrit Pritam
Music Composer: Santhosh Narayanan, C. Sathya
Costume Designer: Radhakrishnan Parthiban
Production Designer: A.Amaran
Production Company: THE BIOSCOPE FILM FRAMERS
Festivals:
Golden Globe
The Singapore International Film Festival(SGIFF)
Indian Panoroma, International film festival of india (IFFI)
Chennai International Film Festival (CIFF)
Selected Filmography:
PuthiyaPadhai(1989)
House full (1999)
Ivan (2002)
KudaikulMazhai (2004)
KadhaiThiraikadhaiVasanamIyakkam (2014)
Director's Biography:
Radhakrishnan Parthiban is an actor, writer, director and producer. He has acted in over 60 films, directed 14 and produced 12. He is known for having directed critically acclaimed films like PudhiyaPaadhai (Road not taken) and Housefull (Houseful) that won the National Indian Film Awards for Best Regional Film in 1989 and 1999 respectively. One of his recent works KathaiThiraikathaiVasanamIyakkam (Story, Screenplay Dialogue Direction) was widely received as an unconventional meta film documenting Indian film history while playing on the anticipation of what's next in its screenplay. His films have very culturally rooted themes and his flair for the language Tamil is evident in his dialogue conception.
Synopsis: Police Investigation room, Chennai.
A middle aged man, Masilamani, is being investigated as a murder suspect. Through the film, he is the only actor on screen, all other characters are mere voices that interact with him.At the start of the investigation, he is said to be observing an oath of silence, refraining from even food or water till the evening. After entertaining him and themselves for the while, the cops finally break his silence. Masilamani tells them that his 9 year old son Mahesh suffers from a disease which gives him only another 5-6 years to live. He takes such oaths regularly, praying for his son's long life. The boy is waiting outside the investigation room. He asks them to tell him that his father is attending a police interview. He also asks them to give his son his tablets and apply eye drops for him at 11 am. He asks that a female cop does it too, so that it is done with care. Throughout the investigation, Masilamani talks back and forth, telling his story in non linear fashion, provoked by visual or audio stimuli around the room. At one point, Masilamani admits to having committed the murder. His weapon of choice was the glass dust rubbed string of a kite. He tells them that his son loves kites very much but that he loves his son even more. And after his son leaves him, he will end his life too, he tells them. He writes his statement and is about to sign it. The papers fly. When he looks up at the flying papers, he sees 'Usha' written on the fan, landing his narration on his biggest stimulus - his wife. A solo string instrument as a melody and a pathos tears through the sound sphere as a reflection of his pain. Masilamani's eyes tear up. He pours their story - their intimate romance, their emotional love affair and the pain of the two. Just when he starts to sign again, he stops and admits to having committed another murder that took place in Madurai, a year ago. The police officers are shocked. They quickly start investigating. Not only does it verify but they also come across another murder that took place in Pondicherry one year ago and connect it back to Masilamani. All 3 murders have been committed in a similar manner. Curiously enough, all 3 murder sites have had a single size 7 sandal lying around, though Masilamani is not a size 7. When asked where his wife is now, he tells them that she's missing. They start digging and find an abandoned corpse at GH's morgue. They show him the photograph. He doesn't even look at it but nods that it is her. Confused, the cops ask him how he's so sure. He tells them that she was in a green saree (like in the photograph). When they question him further, he prods and pierces through his story, narrating it piece by piece. Masilamani is a security guard at a popular sports and recreation club. His family got him married to Usha, a beautiful girl from his village. They lived in an out house on the club premises. Within 8 months, Mahesh was born, with a life threatening condition. Usha saw rich women at the club; their expensive sarees, precious jewellery and made up faces. And they were not even as pretty as her. She developed a regard for money and its forms. She didn't believe in re-birth to hope to be born into a rich family next time around. She started desiring wealth in this life. This blurred her morales. And some men at the club used it to their benefit. Masilamani started hearing rumours about his wife. The rumours slowly gathered strength. A fight broke out, but Usha somehow convinced and cajoled him, that she was forced into it and she promised him that it would never happen again. But desire is never satiated. The demon boomed again and this time his heart turned to stone. He tracked down and murdered each of her illegitimate lovers, one by one. Usha, in a twist of fate, died in a road accident. Though aware that her body lies in the morgue, Masilamani refuses to collect it. Masilamani, the man who committed 3 cold blooded murders, sees a cockroach near his foot during the investigation. He carefully picks it up and lets it out through the window so that it doesn't get crushed under anyone's foot. A psychiatrist, watching him as part of the investigation, tells the cops that Masilamani is extremely nurturing. To experience motherhood, being a woman is not a pre-requisite, being affectionate and passionate is. And Masilamani is both, she tells them. The police are about to arrest him when he gives them another shock. He admits to having committed the murder of a Minister's brother 3 years ago. The police are stunned. The murder was committed by an important person that the police covered up for, for political reasons. The mystery to it was deliberately buried all these years. A size 7 sandal was originally found there but was tucked away with all the other evidence. Masilamani cleverly committed his 3 murders in the exact same way that the original murder was committed. He points out that it should've been him who committed all 4 murders or he couldn't have committed any of them and that's the only way. Masilamani is originally soft natured but shrewd enough to find loop holes to get himself out of the murders he committed. Realising that he could put them in a soup if he were to blab about the Minister murder case, and understanding that he has no ambition in life whatsoever, other than to take care of his motherless son to the end of his life, the police release Masilamani on humanitarian grounds. Masilamani gets out of the investigation room. His son's kite flies up and towards the side of his face. As they walk away, he tells Mahesh that his mother has gone out of town on work, but as he'd promised, he's taking Mahesh to the beach, to fly his kite up in the sky, where there are no cops to refuse him his job offer. Shot of the minister's thug removing his slipper before entering the Minister's house. The slipper is seen. It's a size 7.