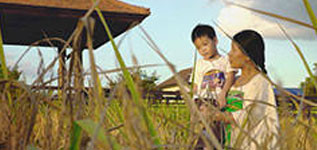 https://youtu.be/Ew9hUrLigCA
Original name: Jwlwi
English name: The Seed
Year: 2019
Run time: 90 minutes
Language: Bodo
Type (Colour/ Black & white): Colour
Country: India
Director: Rajni Basumatary
Producer: Rajni Basumatary, Jani Viswanath
Cast: Rajni Basumatary as Alaari, Shimang Chainary as Erak, Jayanta Narzary as Nizwm, Kanyakorn Kiratichotiyangkoon as Boonsri, Queen Hazarika as Mira, Jeffrey Daimary as Jeffrey,
Pansy Brahma as Ansumwi
Screenplay: Rajni Basumatary
Cinematographer: Suruj Deka
Editor: Hemanti Sarkar
Production Company: Manna Films
Selected Filmography:
Anurag (2004)
Shuttlecock Boys (2011)
Raag ( 2014)
Mary Kom (2014)
The Shaukeens (2014)
III Smoking Barrels (2017)
Jwlwi - The Seed (2019)
Director's Biography: Rajni Basumatary is an Indian filmmaker and actress, better known for her role of Mary Kom's mother (Mangte Akham Kom) in the 2014 film Mary Kom. She is also the brand Ambassador of Systematic Voters' Education And Electoral Participation (SVEEP). Basumatary has written and produced the highly acclaimed, Assamese feature film Anurag which won Assam State Film Awards. Her directorial debut Raag was released in all major cities in India in 2014. Basumatary is the director of the upcoming feature film Jwlwi - The Seed.
Synopsis: Jwlwi - The Seed is a 2019 Bodo-language Indian film directed by Rajni Basumatary. Set in Assam's insurgency ridden 90s, Jwlwi- The Seed is "a story of hope lost and found through resolute perseverance even in the face of seemingly insurmountable odds.